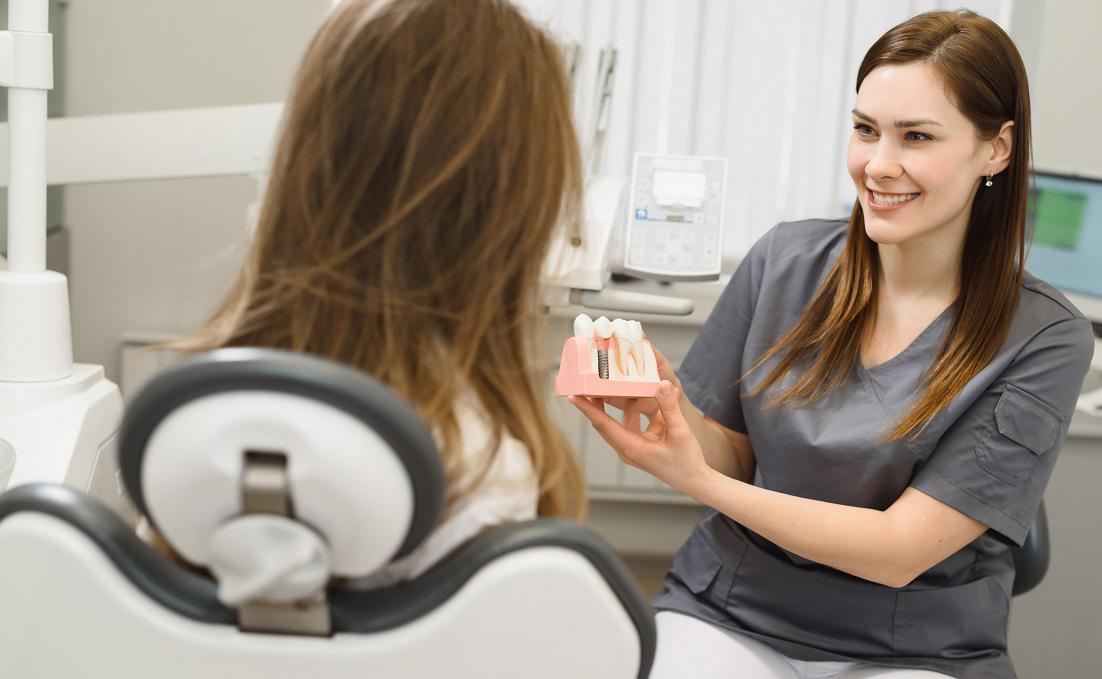 Dental implants are an amazing tool used to restore your smile.
Dental implants can replace the missing parts of a natural tooth, including the root of the tooth and the crown; implants also restore multiple missing teeth with a prosthesis such as a dental bridge or a denture.
There are essentially three parts that make up a single implant. Implants are a titanium post used to replace the tooth root, an abutment that fits onto the titanium post, and finally a crown that fits over the abutment. These parts together are used to replace a tooth. Much like an artificial joint, only for a tooth!
There are also "mini-implants" and traditional implants that can be used to help anchor prosthetic teeth. These are for patients missing several teeth in the same area. With this type of implant treatment, there will be additional parts in the denture base that help anchor the denture or partial to the mini implants.
The good news is that long-term dental implant care is very straightforward and easy to maintain.
This procedure is a wonderful use of technology and advancement in dentistry. Following the procedure, you may have some questions about the care of this new restoration. This care guide covers the basics of what you need to know.
The First Step: Know What to Expect
The dentist will always direct you in the right direction for your specific type of implant. Following the placement of a dental implant, one of two things will happen. The dentist may recommend healing time before placing the prosthesis or you may leave the same day with a new prosthesis.
With either process, the dental implant will be placed directly into the jaw bone. This is a very compatible and safe process In fact, The American Academy of Implant Dentistry is constantly tracking and improving the success of dental implants which have been around for decades. This integration and healing time can consist of several months, even after your mouth has recovered from treatment. Being aware of this is the first step of care.
Dental Implant Care Post-Op Instructions
Following post-op instructions from the dentist is critical to long-term care. This may include a soft diet, salt water rinses, irrigation with a plastic syringe, and covering the site when using a toothbrush. It is important to follow whatever instructions are given to ensure your mouth heals properly and your implants last as long as possible.
After an initial healing time, rinses can be very healing to the gums but too much swishing can also upset the site. The dentist may also recommend avoiding traditional mouthwash, especially the kind with alcohol in it. This is very important if a bone graft and membrane have been placed.
A bone graft and membrane are sometimes used to assist with the integration and healing process. Always follow the dentist's instructions regarding any extra care for this specific treatment.
Tools to Use
Once everything has healed, it is important to keep the area between the implant(s) and other teeth clean. This in-between area is called the "interproximal" space.
Thread flossers are great for cleaning interproximal spaces and implant sites.

When flossing is too difficult to manage, a Waterpik® is another excellent tool that can be used for interproximal cleaning. This special tool deeply cleans the area between teeth while stimulating tissue health.

Plastic irrigation syringes can be found at several retailers and are excellent for long-term use. In fact, it is helpful to carry one with you for use after meals.

Lastly, periodic exams are still important for the dentist to assess healing, including integration with the bone, as well as to inspect and maintain all the parts involved with your dental implant.
Part Maintenance
Implant abutments may need to be tightened from time to time. This can be done easily and efficiently during an appointment. Call the dentist if something ever feels off.
Communication is an important part of all dental treatment. Implants that support dentures will often require replacement parts as well. The dentist can give you these estimated timeframes and will also periodically check these parts for you when you come in for a dental visit.
All in all, dental implant care is very manageable. It takes a little bit of extra thinking and some new steps and tools, but soon you'll have it down like a pro!
Learn More About Dental Implant Care and the Procedure
Call our office and one of our team members can assist with any questions you may have. You can also schedule an appointment to discuss the ongoing care of your dental implants or dental implant placement with our friendly and knowledgeable team. Knowledge is another way to properly care for your dental implants!